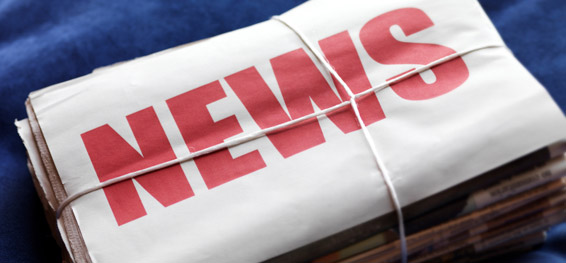 News
July 2011
Aerasense customer makes headline news
Ultrafine particles were front page news in Holland on July 5 as Aerasense customers reported on a study conducted in the Dutch Province of Gelderland using the new Aerasense nanoparticle monitor. Measurements showed high concentrations of ultrafines in an extended traffic survey and the researchers observed that the emission filters introduced by EU regulation are having little or no effect to reduce ultrafine particle levels which they described as "life-threatening".
The study was conducted by consultants DGMR and the measuring institute Geluidsnet. The popular daily newspaper De Volkskrant chose to lead the front page with the news, expressing the hope of the Aerasense customers that the new measuring equipment will make it possible to establish norms to limit the ultrafine particles that are generally considered to be dangerous for health.
Arnaud Kok of DGMR was quoted "You can compare the air near a highway with a bag of many small marbles and a few big bowling balls. The marbles are bad for your health but to conform with EU norms you have to add the weight of the marbles and the balls together. It is therefore tempting to filter the bowling balls (fine particles) out of the air, while people are getting sick from the marbles (ultrafines)". Arnoud went on to say "Now we have the new equipment we should adjust the norms to reflect the health risks"
Other media on the topic:
July 2011
US publishes policy principles for oversight of nanotechnology
The regulatory federal agencies of the United States have formulated a framework of policy principles concerning the regulation and oversight of application of nanotechnology and nanomaterials.
The document reflects that nanotechnology can drive export and economic growth, stimulate innovation and create jobs, while, at the same time, public health, safety and the environment must be protected. Federal agencies already have the authority under existing regulation to evaluate health, safety and environmental impact and will seek to use the best available scientific and technical information when evaluating benefits and risk of specific nanotechnology applications. The agencies will avoid making generalizations that judge nanotechnology as intricsically harmfull.
Download the document here: http://www.whitehouse.gov/sites/default/files/omb/inforeg/for-agencies/nanotechnology-regulation-and-oversight-principles.pdf
May 2011
EU to regulate Ultrafines in 2013
The European Union aims to begin regulation of ultrafine particles in 2013, said Andre Zuber in a keynote speech on behalf of the European Commission at the EFCA symposium in Brussels on 27 May.
The EFCA (www.efca.net) is the European Federation of Clear Air and Environmental Protection Associations. The conference on "Ultrafine Particles: Sources, Effects, Risks and Mitigation Strategies" was attended by over 100 experts and governmental advisors. State-of-the-art monitoring solutions were demonstrated by Environmental Technology Services (www.etserv.be), including the latest monitors from Aerasense.
Several speakers drew attention to the many opportunities that will be generated by further study of ultrafine particles and pointed to links, for example, with climate change. Until recently study has been complicated by the expense and complication of measuring equipment - factors that are much improved by a new generation of monitoring equipment including NanoTracer and NanoMonitor from Aerasense.
Mr Zuber asked the assembled scientists to assist the work of the Commission with further study and investigation as much remains to be discovered.
May 2011
University chooses NanoTracer for health study
Real-time detection and portability are main reasons that the International Laboratory for Air Quality and Health (ILAQH) at the Queensland University of Technology (QUT) included the Aerasense NanoTracer from Philips Research in an extensive study of the effects of traffic emissions on school children in the Brisbane Metropolitan Area.
Scientists plan to test the hypothesis that exposure to ultrafine particles (<0.1 µm) is linked to various respiratory, cardiovascular and inflammatory conditions. In particular, many authorities have noted a rise in asthmatic conditions which are thought to be associated with the increased levels of ultrafine particle pollution due, for example, to growing volumes of traffic. The main goal of the study is to guide future regulation and to define measures to protect children better in their formative years.
Children aged 8 to 11 years are selected to participate in monitoring for long term health effects. A number of pupils will use the NanoTracer for 24 hour periods together with a GPS system to track their location with respect to particle concentrations at different times and different places.
The Australian study will provide valuable data for a better understanding of the effects of ultrafine particles. Traffic emissions are a major source of ultrafine particles and the concentration varies strongly depending on factors such as the volume of traffic and wind direction. By equipping children with a portable monitor, the investigators will build a reliable picture of total exposure to these particles.
The Aerasense NanoTracer is uniquely suited to this part of the project because it can be carried easily and requires no special training to use. Measurements are taken automatically at regular intervals and can be uploaded to a computer for further analysis.
Philips Aerasense is honored to contribute to this project and make a contribution to improving health and wellness.
February 2011
Philips NanoMonitor and PIMEX make nanoparticles visible
See how the NanoMonitor combined with the PIMEX video system helps you understand exposure to nanoparticles.
For more information on PIMEX you can contact the Dutch Center of Expertise on Toxic Substances (ECTS) in Nijmegen, The Netherlands.
November 2011
The Dutch science program Labyrint explains the benefits and risks of nanotechnology. The NanoTracer is shown to be a very valuable instrument in monitoring, assessing and controlling the risks of ultrafine and nanoparticles.
http://weblogs.vpro.nl/labyrint/2010/11/03/tv-onsterfelijk-door-nanotechnologie/
February 2010
IVAM extends measurement services
IVAM, a research and consultancy institute in the field of environmental and occupational health, has extended its portfolio of measurement services. With the Philips NanoTracer they are now offering emission and exposure measurements in nanotechnology and other areas.
To read their newsletter, click here (in Dutch)
March 2009
De sleutel tot veiliger werken met nanotechnology
The March issue of Safety & Fashion @ Work explains how the portable Aerasense nanoparticle monitoring technology helps to create a safe nano-production environment.
To read the article in pdf format, click here (in Dutch)
February 2009
Contribution to healthier working environment / Bijdrage aan gezondere werkomgeving
In its Februari issue, Chemie Magazine has published an article about Philips Aerasense, explaining how the portable Aerasense technology can contribute to a healthier working environment in industrial settings.
To read the article in the Februari issue, click here (in Dutch)
To read the article in pdf format, click here (in Dutch)
January 2009
The Philips Aerasense ultra-fine particle monitor
TVVL Magazine has published an article by dr. Marra about the Philips Aerasense technology. Dr. Marra explains the role of ultra-fine particles in the indoor environment and how measuring ultra-fine particle concentrations with the Aerasense technology is a starting point for creating a healthy environment with good indoor air quality.
To read the article in the Januari issue, click here (in Dutch)
5 november 2008
Philips Aerasense contributes to working safely
Philips Aerasense contributes to working safely with nano materials through its new personal nano-particle monitoring technology
Eindhoven, The Netherlands – Dealing with nano materials and ultra-fine particles in industry leads to health risks. Identifying nano particle exposure risk on working locations has been very cumbersome until recently. Philips Aerasense has now developed a revolutionary measuring technology that helps to resolve this. During NanoSafe 2008, which is being held from 3 to 7 November in Minatec Grenoble, France, Philips Aerasense is presenting its portable technology to detect and monitor these nano particles in the air easily and real-time to the nano industry community. This technology makes a significant contribution to establishing a healthy working environment.
Companies that manufacture and apply nano materials are thoroughly aware that these materials offer huge innovation opportunities, but possibly also lead to health risks when they are inhaled. This is a good reason for Philips to investigate how ultra-fine dust and nano particles can be measured and monitored so that companies can adopt timely measures to prevent or limit health risks.
Detection and measurement
Nano particles in the air can cause serious harm to health, because the particles penetrate deep into the lungs. It is necessary to collect information about the concentration and size of such nano particles so that measures can be adopted. Philips Aerasense develops user-friendly technology to assess levels of ultra-fine particles and nano particles in the air. This information can be used for research, determining internal and external guidelines and legal regulations as well as verifying the effectiveness of ventilation and filtration.
The very user-friendly technology developed by Philips Aerasense enables the user to carry out real-time continuous measurements accurately, conveniently and quickly on all locations. This is feasible with the help of a portable measuring device with an intuitive user interface. The technology can be applied in very compact detectors so small they fit in the palm of a hand thus allowing personal monitoring. This means the quantity of nano particles an employee is exposed to can be viewed even on an individual basis and different locations. The technology not only records the concentration, but also the average diameter of the particles within the measurement range from 10 to 300 nm. Data can then be analyzed easily with the help of special software. Real-time alert functions signal previously set levels being surpassed. The technology developed by Philips Aerasense is very userfriendly, can be employed everywhere and is substantially less sensitive to contamination than optical technology.
Emergence from Philips Research
Philips Aerasense has emerged from Philips Research and was set up as a logical consequence of Philips' concern for people's health and wellbeing. Years of research by Philips Research form the basis for the company. Philips Aerasense focuses on monitoring air quality on the shop floor, both in the nano industry and in other industrial sectors. Other applications are e.g. in air treatment systems and workplaces in commercial and industrial buildings. www.aerasense.com
NanoSafe
All aspects relating to safe production and use of nano-technology are being clarified at the NanoSafe conference. The conference is organized by the NanoSafe2 project, an integrated project financed by the EU, with participants from industry and the scientific community. See: www.nanosafe2008.org
About Royal Philips Electronics
Royal Philips Electronics of the Netherlands (NYSE: PHG, AEX: PHI) is a diversified Health and Well-being company, focused on improving people's lives through timely innovations. As a world leader in healthcare, lifestyle and lighting, Philips integrates technologies and design into people-centric solutions, based on fundamental customer insights and the brand promise of "sense and simplicity". Headquartered in the Netherlands, Philips employs approximately 128,000 employees in more than 60 countries worldwide. With sales of EUR 27 billion in 2007, the company is a market leader in cardiac care, acute care and home healthcare, energy efficient lighting solutions and new lighting applications, as well as lifestyle products for personal well-being and pleasure with strong leadership positions in flat TV, male shaving and grooming, portable entertainment and oral healthcare. News from Philips is located at www.philips.com/newscenter.